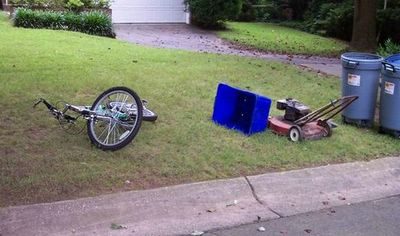 Is the bike supposed to be picked up as scrap metal... or not?
Is that bike part of the requested collection, or did Junior forget it on the lawn?
We recently started asking you to provide an itemized list when you request a scrap metal collection (or a bulk trash collection). This does require a little more work up-front.
The benefits of this list can be invaluable. When collection crews arrive for a pick up, it is not always clear what they are to take with them. Under our improved procedure, the collection crew has your list in hand when they come to your home. And, they have instructions to pick up only what is on that list. This helps them check off to make sure they take everything you wanted them to take, and to leave the rest behind.